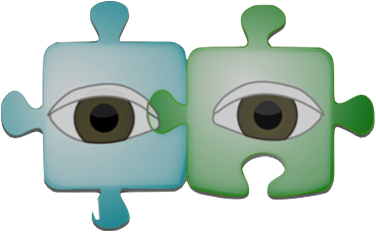 Our research embraces the strengths of Aboriginal and Western knowledge, using the Two-Eyed Seeing approach.  Two-Eyed Seeing embodies both Indigenous and Western world views, acknowledging that no single perspective is better. This framework originated with Mi'kmaq Elders Albert and Murdena Marshall.
The Western perspective is well established within existing pain literature and clinical practice. However, the Indigenous point of view is not generally considered in pediatric pain care. Our  philosophy offers a balanced perspective which will lead to more effective pain assessment and treatment for Aboriginal children.
Merged perspectives
Going forward, we want to establish more reliable means for First Nations children to convey pain, from a holistic perspective. We hope to learn how to improve health care, reduce hurt, and enrich the wellbeing of First Nations children by merging Western and Indigenous perspectives and knowledge.
Our logo – "ACHH" and the dual motif
The ACHH Initiative logo is a representation of contemporary and traditional perspectives.  Designed by Kayla Rudderham, NSCAD graduate and 2014 ACHH summer student, the colours are meant to reflect the 4 Indigenous medicine wheel colours-red, yellow, black, and white.
The dual motif image was adapted from the double curve, or Aboodalooak, which is often seen in Aboriginal artwork, carvings and symbolism. The double curve is a symbol of balance and alliances as well as a representation of plants and medicinal herbs.  To our team, the dual motif represents a coming together of two perspectives for growth and healing.  Further to this, the dual motif symbolizes a child-like spirit which reminds the team of our overall goal – to improve Aboriginal children's health and wellbeing.